You pick up the phone and start calling around to find out how much Fido's groom is going to cost, and you are surprised that it cost more than you expected, more than your own hair cut. Doesn't my haircut involve more than my pet's? Today, we will discuss why grooming is expensive, or so you may think!
How Expensive is Pet Grooming?
The average cost of basic pet grooming in the United States is $40-$100. Many people compare pet grooming expenses to their hairdressers' expenses but do not understand all the differences involved in the two. A groomer's workload is much heavier and involves more than a hairdresser.
Why is Pet Grooming so Expensive?
First is time. A hairdresser/barber usually will shampoo, condition, cut, dry, and style your hair taking on average of 30 minutes to an hour. A groomer will shampoo, condition, cut, dry, and style your pets' coat but over their entire body! A human can maintain their own hair, but a pet relies of their owner to help maintain their coat and think about it, how often do you brush your pet? Do you brush your pet's coat every day, many times a day, like you do your own hair? Probably not! Do you wash your pet's coat as much as you wash your own hair? Once again, probably not! Does your hairdresser clean your eyes, your ears, or your butt, NO, but a groomer does for your pet. Does your hairdresser have to pick you up to put you into the shampoo bowl? Do you go to your hairdresser with smelly, dirty, matted, or tangled hair with mud caked in or burrs in your hair, not likely. Does your hairdresser trim your private areas, goodness, I hope not!! Your hairdresser does not clean or pluck hair from your ears, which requires patience and training. Do you sit still while receiving a haircut? Manicures and pedicures usually cost you more and sometimes you even must go to a different location to receive these services. Does your hairdresser take the extra time when you are nervous about your haircut, or do they offer you comfort and treats?
Pet Grooming Can be Difficult and Sometimes Dangerous
Pet groomers face many more challenges than a hairdresser/barber. A person usually sits pretty still while getting their hair cut but a pet usually fidgets and moves constantly. Do you yell at a friend passing by the window or door while getting your hair cut. In most cases, you do not but your pet probably barks at other dogs, people, or cars. Do you lash out at your groomer if they tug on a knot a little too hard, not likely. Groomers deal with pets daily who are aggressive, anxious, or in pain which can cause the pet to lash out at the groomer causing scratches, bruising, and sometimes getting bit!
Overhead
Groomers have a huge amount of overhead they deal with. Not only do we have the usual rent, electric, water, insurance, but we also have upkeep on our equipment and products used.
Average price of a good shampoo or conditioner: $50-$90 per gallon

Cologne/Perfume: $8-18 per 4–8-ounce bottle

Detangler/Finishing/Conditioning Sprays: $30-$80 per gallon

1 clipper blade: $40-$70

1 set of scissors average $200+

1 set of clippers average $300+

Grooming smocks average $50

Brushes can range from $10-$80 on average

Combs can range from $10-$35

Detangling/Dematting/Stripping Tools average $20-$80 per tool

Laundry Detergent

Specialty Items like color, teeth brushing items, air brush tools, coloring tools, clays, essential oils, specialty shampoos/conditioners, bows, bandanas, etc.

Tool upkeep: $8-$20 for scissor sharpening (done on average of every 8 weeks); $8-$20 for clipper blade sharpening per blade (done on average of every 8 weeks), clipper maintenance (changing of blade drives-done every 6 to 8 weeks) $20
Hairdresser vs. Groomer Costs
Nail trim if you get a manicure and pedicure service it can cost anywhere from $45 and up.

Ear cleaning you as a human need to go to a medical professional to get them cleaned, therefore the price depends on insurance or not.

Massage can range from $60 and up.

Male hair cut averages $20 while a females can average $50 and up

Groomers call it a sanitary trim while humans call it a bikini wax - $60 and up

Human blowout or style $35 and up
Now add up all these services as a human and compare it to what a groomer does and charge. Wow, not much at all!!!!
Pet Grooming in General
When grooming your pet in my salon, I give them a shampoo, a conditioning treatment, massage, use special facial shampoo, hand dry the coat, brush/comb/cut the coat, style the coat, Dremel the nails, sanitary trim, anal glands expressed (dogs 25 pounds and under), and clean and pluck hair for the ears. Pets go home with a spritz of cologne/perfume and an accessory (bows, bandanas, neck accessory, etc.). Depending on the dogs' size and coat condition, this can take on average of 2 or more hours per dog with 3 hours being the average. When considering all that a groomer does in just services alone, your grooming is priced really well for what all you receive.
Top 12 Reasons Why It Costs More to Get Your Pet Groomed Than Your Own Hair Cut!
Your hairdresser does not wash and clean your rear end or express your anal glands.

You do not go eight weeks or longer without washing or brushing your hair.

Your hairdresser does not give you a sanitary trim.

Your hairdresser does not clean your ears.

Your hairdresser does not remove the boogies from your eyes.

Your hairdresser does not remove leftover food from your hair or beard.

You sit still for your hairdresser.

Your haircut does not include a manicure or pedicure.

Your hairdresser only washes and cuts the hair on your head.

You do not bite or scratch your hairdresser or give them a bath when you get your hair washed.

The likelihood of you pooping on the hairdresser is pretty slim.

You TIP your hairdresser/barber.
Just to sum it all up: It is a heavier workload, more time involved, more difficult to perform, and all with the potential threat of scratching, bruising, or a bite!
Just a few pictures of the equipment needed to perform our jobs properly. Now look at how much is here and look at the average cost of these items mentioned above and add it up. Oh, make sure you are sitting down when you do this! By the way, this is all owned by one groomer, me! I have much more not pictured. These are just the main ones used daily.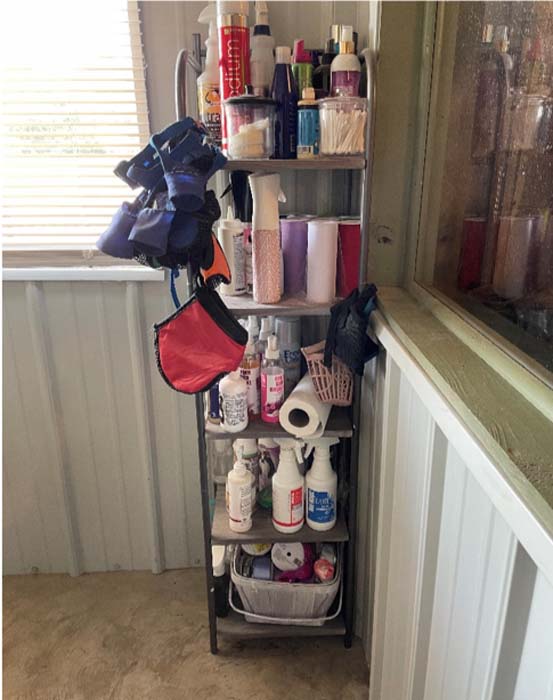 Just some of the dematting, finishing, and conditioning sprays along with colognes/perfumes. Some muzzles for the safety of the pet and groomer.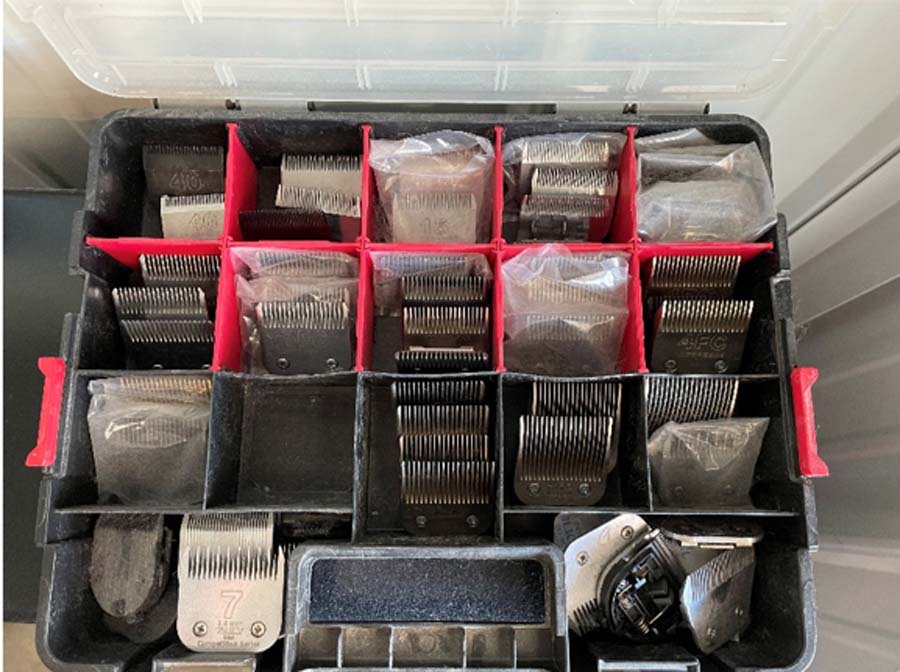 There are about 60 clipper blades in this box. Try multiplying 60 blades at about $50.00 on average cost per blade. Then multiply the 60 clipper blades on an average cost of $15 per blade to sharpen. This is done about every 8 weeks! Keep in mind that these are the blades needed for just one groomer.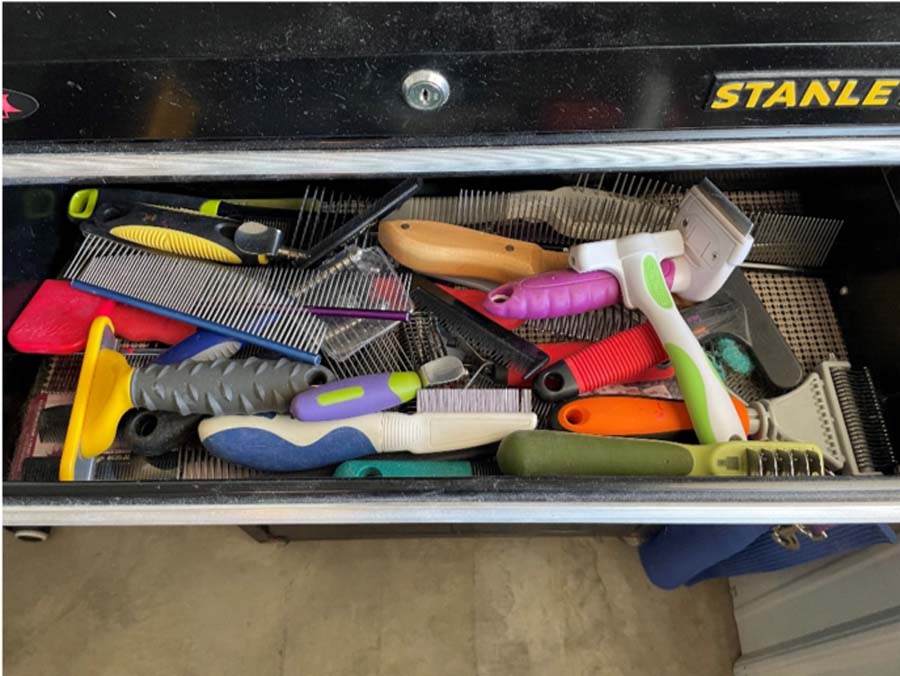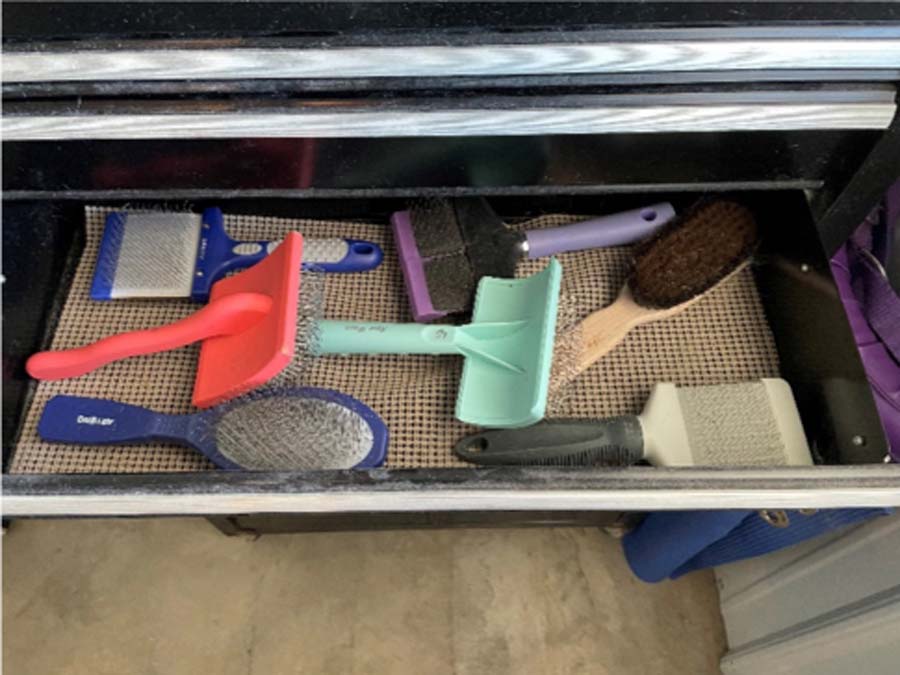 This is a drawer of combs, dematting tools, and deshedding tools used by just one groomer. How much money do you think is in this drawer.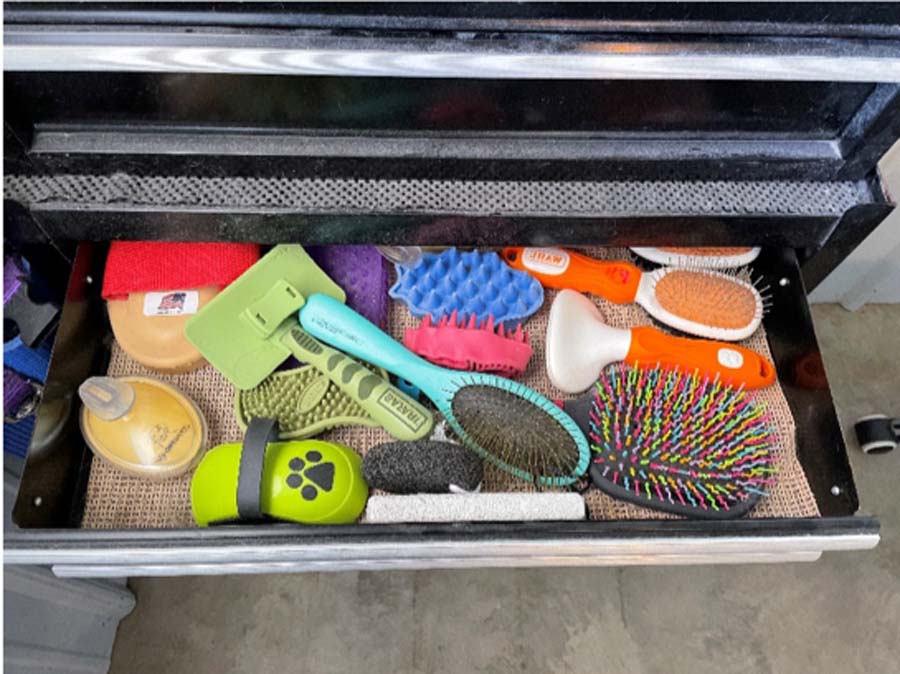 Two drawers full of several types of brushes used for different coat types and lengths. Once again, owned by one groomer.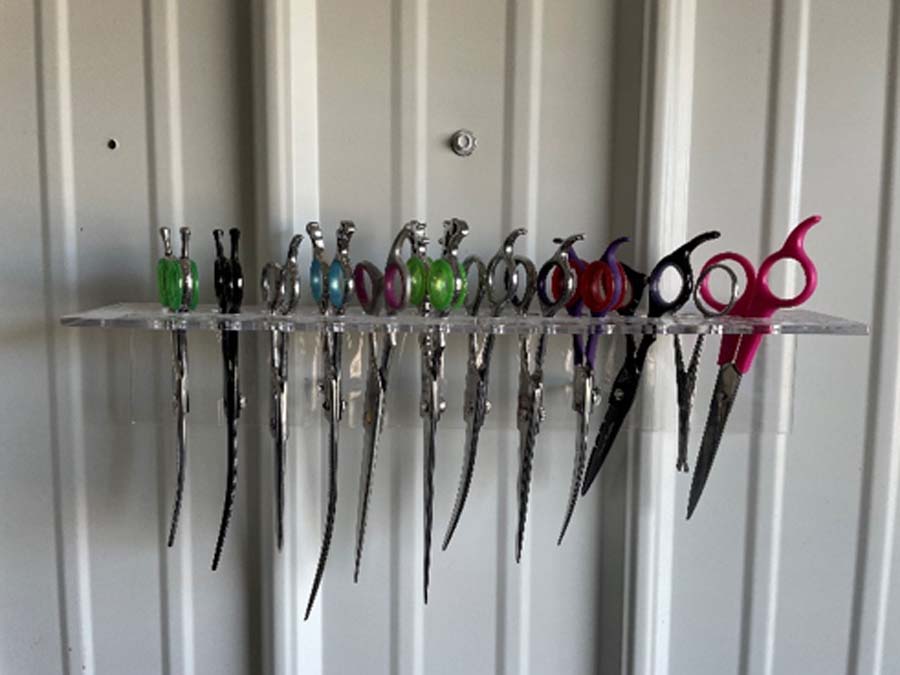 Different scissors used by one groomer in a day's time to get the requested pet grooming results.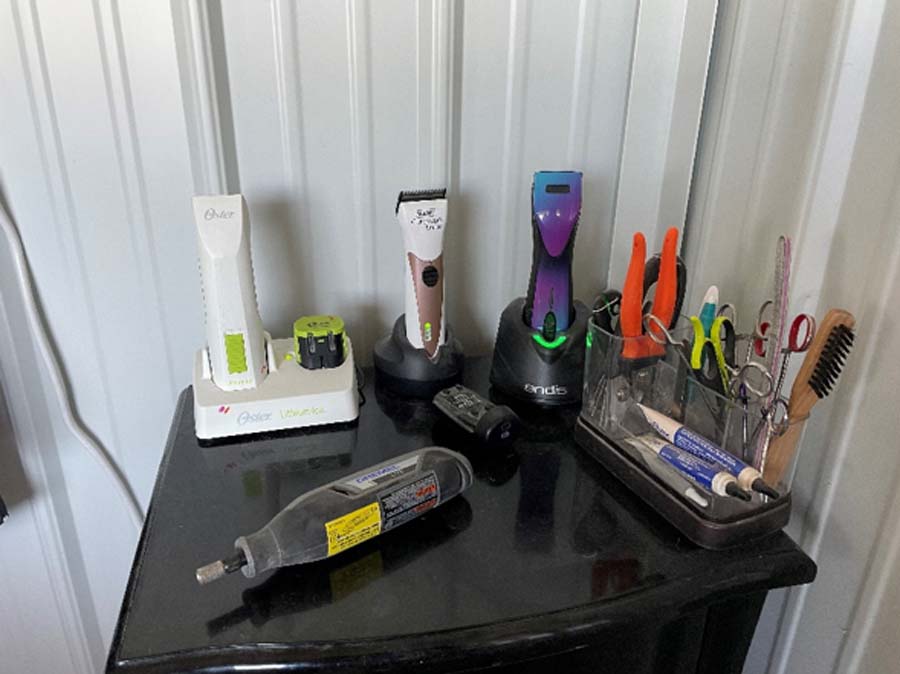 Clippers, toenail clippers, hemostats, clipper oil/lube, and Dremel used daily to achieve various grooming results. Once again, owned by one groomer.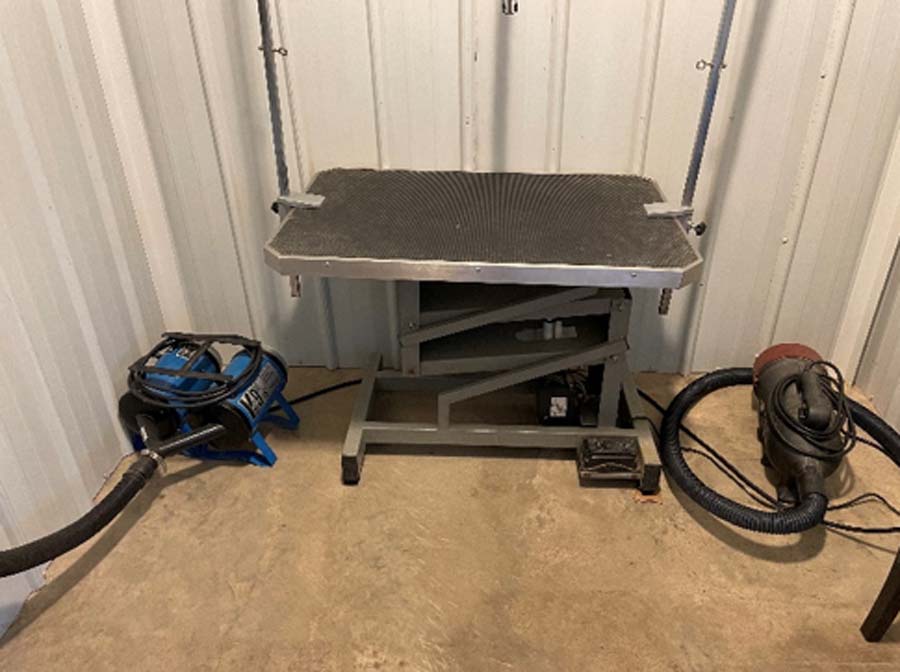 Two distinct types of dryers needed to achieve required results. More dryers are owned but not pictured.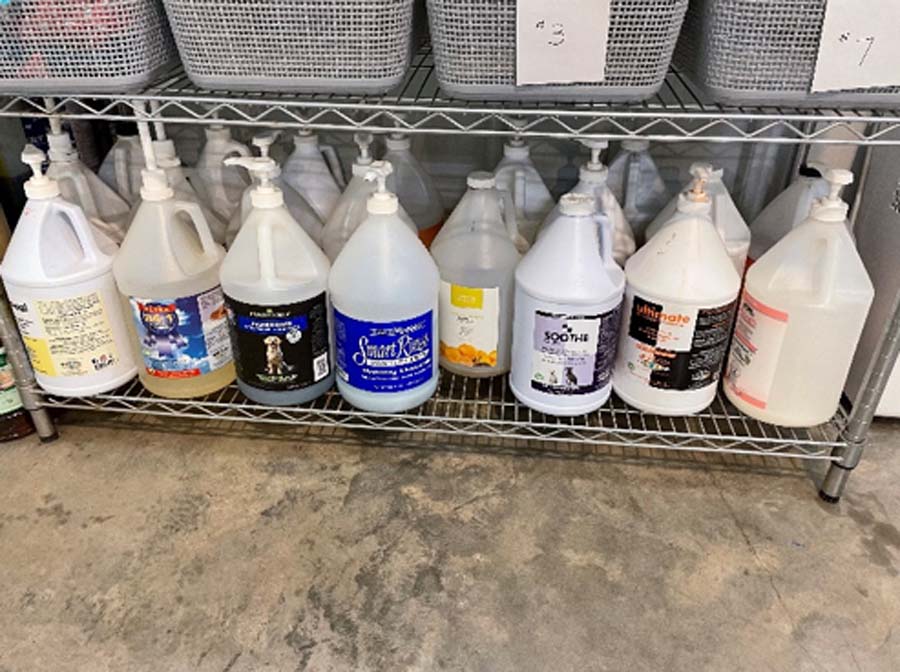 Gallon bottles of shampoos and conditioners used on different coat types and coat conditions.
More shampoos and conditioners.